Vancouver, B.C. - TheNewswire - October 26, 2023 - Canada One Mining Corp. ("Canada One" or the "Company") (TSXV:CONE) (OTC:COMCF) (FSE:AU31) is pleased to announce it has entered into an agreement (the "Option Agreement") pursuant to which it will be granted an option to acquire 100% interest in the CM1 Copper Property (the "Property"), from arm's length vendors (the "Vendors"). The Property is located contiguous to the Company's flagship Copper Dome Project, Princeton, British Columbia.
Mr. Peter Berdusco, President and CEO of Canada One commented: "We continue to acquire key properties at this favorable time in the markets and are delighted to add CM1 to our extensive land position immediately south of Hudbay's Copper Mountain Mine. Canada One is focused on world-class mineral belts with infrastructure and potential for discovery of mineable deposits. CM1 increases our land position at Copper Dome and we look forward to executing exploration campaigns in an effort to unlocking its discovery potential."
Approximately 1,054 hectares in size 

Located 4 km south of Hudbay Mineral's producing Copper Mountain Mine (1,132 Mt @ 0.22% Cu; 0.09 g/t Au; 0.64 g/t Ag; Total Measured and Indicated1,2) 

Extensive porphyry style alteration footprint (chlorite-epidote-calc-silicate skarn) 

Relatively under-explored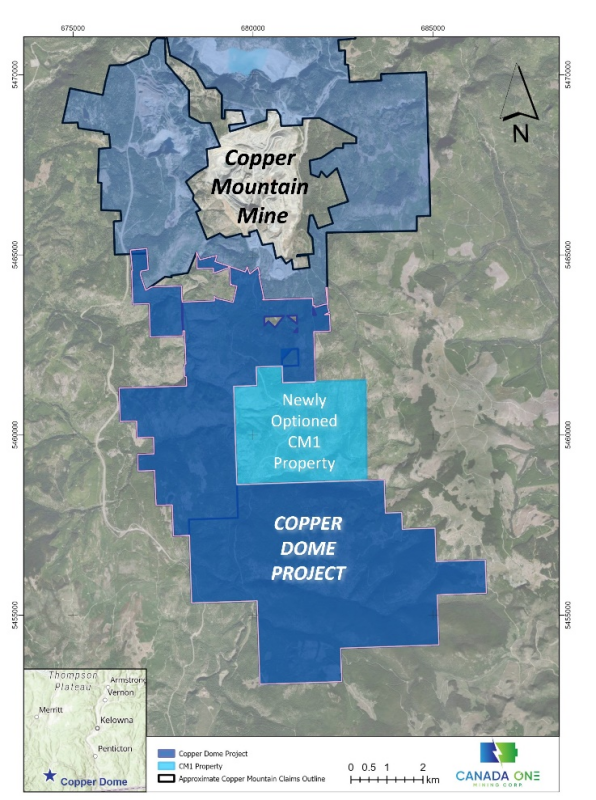 Click Image To View Full Size
Figure 1.  The location of the CM1 Copper Property, Copper Dome Project and Copper Mountain Mine.  Note that the Copper Mountain Mine provides geologic context for Canada One's land position, but this is not necessarily indicative that the land position hosts similar grades or tonnages of mineralization.
Under the terms of the Option Agreement, the Company will be granted the right to acquire 100% interest in the Property in consideration for completing a series of cash payments totaling $225,000, issuing a total of 2,000,000 common shares of the Company (the "Shares"), and incurring expenditures on the Property of $225,000. The Company is required to make the cash payments, issue the Shares and incur the expenditures, in accordance with the below in order to maintain the Option Agreement in good standing:
Assuming the Company exercises the option and acquires the Property, it will remain subject to a two percent (2.0%) net smelter return royalty in favor of the Vendors on mineral products produced from the Property. Fifty-percent (50%) of the royalty can be purchased from the Vendors at any time by completing a one-time cash payment of $1,000,000.
Closing of the transaction remains subject to a number of conditions, including the completion of any necessary financing, the approval of the TSX Venture Exchange and the satisfaction of other closing conditions customary in transactions of this nature.
The transaction cannot close until the required approvals are obtained, and the outstanding conditions satisfied. There can be no assurance that the transaction will be completed as proposed or at all. No finders' fees or commissions are payable in connection with the transaction.  
References
1        Klue, R., Redmond, P., Alberto, L.C., Simonian, B., Humala, A., Weston, S., 2022.  COPPER MOUNTAIN MINE LIFE-OF-MINE PLAN AND 65 KT/D EXPANSION STUDY UPDATE NI 43-101 TECHNICAL REPORT BRITISH COLUMBIA, CANADA.  Report Date: September 30, 2022.  Effective Date: August 1, 2022.  
2        The Copper Mountain Mine Mineral Resource Estimate includes a measured resource 597 Mt @ 0.23% Copper, 0.10 g/t Gold, 0.71 g/t Silver, an Indicated resource of 535 Mt @ 0.20% Copper, 0.09 g/t Gold, 0.57 g/t Silver and an inferred resource of 446 Mt  @ 0.19% Copper, 0.09 g/t Gold, 0.54 g/t Silver
All scientific and technical information in this news release has been prepared by, or approved by Daniel MacNeil, PGeo. Mr. MacNeil is a qualified person for the purposes of National Instrument 43-101 - Standards of Disclosure for Mineral Projects.
For further information, interested parties are encouraged to visit the Company's website at www.canadaonemining.com, or contact the Company by email at This email address is being protected from spambots. You need JavaScript enabled to view it., or by phone at 1.877.844.4661.
On behalf of the Board of Directors of
CANADA ONE MINING CORP.
Peter Berdusco
President and Chief Executive Officer
Forward-Looking Statements
This press release includes certain "forward-looking information" and "forward-looking statements" (collectively "forward-looking statements") within the meaning of applicable Canadian securities legislation. All statements, other than statements of historical fact, included herein, without limitation, statements relating to the future operating or financial performance of the Company, are forward looking statements. Forward-looking statements are frequently, but not always, identified by words such as "expects", "anticipates", "believes", "intends", "estimates", "potential", "possible", and similar expressions, or statements that events, conditions, or results "will", "may", "could", or "should" occur or be achieved. Forward-looking statements in this press release relate to, among other things: statements relating to the completion of the transaction and receipt of any required regulatory approvals. Actual future results may differ materially. There can be no assurance that such statements will prove to be accurate, and actual results and future events could differ materially from those anticipated in such statements. Forward looking statements reflect the beliefs, opinions and projections on the date the statements are made and are based upon a number of assumptions and estimates that, while considered reasonable by the respective parties, are inherently subject to significant business, technical, economic, and competitive uncertainties and contingencies. Many factors, both known and unknown, could cause actual results, performance or achievements to be materially different from the results, performance or achievements that are or may be expressed or implied by such forward-looking statements and the parties have made assumptions and estimates based on or related to many of these factors. Such factors include, without limitation: the timing, completion and delivery of the referenced assessments and analysis. Readers should not place undue reliance on the forward-looking statements and information contained in this news release concerning these times. Except as required by law, the Company does not assume any obligation to update the forward-looking statements of beliefs, opinions, projections, or other factors, should they change, except as required by law.
TSX Venture Exchange Disclaimer
Neither the TSX Venture Exchange nor its Regulation Services Provider (as that term is defined in the policies of the TSX Venture Exchange) accepts responsibility for the adequacy or accuracy of this release.
Copyright (c) 2023 TheNewswire - All rights reserved.