Vancouver, B.C. - TheNewswire - November 16, 2023 - Canada One Mining Corp. ("Canada One" or the "Company") (TSXV:CONE) is pleased to announce it has completed a Mobile Metal Ion (MMI) soil geochemical survey over selected parts of its Abitibi East Critical Minerals Project (the "Project", "Property" or "Abitibi East") located 60 kms east of Timmins, Ontario, Canada.
The Property is located on the western end of the world-class Abitibi greenstone belt, central to the Timmins Mining Camp (119 Moz Au and 337 Moz Ag historical production)1, the Kidd Creek Volcanic Massive Sulphide (VMS) deposit (2.5 Mt Zn, Cu, Ag Proven and Probable)2, and the Alexo-Dundonald nickel deposit (1,254 kt Ni, Cu, Co Indicated)3.
MMI Survey
Three areas of past exploration were chosen as locations for soil sampling (see Figure 1):
Area A in the northeast corner has been explored in the past for nickel mineralization. Surficial materials in this area are generally clayey soils within dense boreal forest, recent logging has provided access to the site.  
Area B in the southwestern corner was previously drilled for VMS style mineralization. The area is overlain by wet clay deposits with some bedrock exposure.
Area C, also previously drilled, was explored for copper mineralization, but returned anomalous nickel values from ultramafic rocks.  
The MMI survey work is considered cursory in many respects as MMI's ability to detect anomalous areas in the clayey and sandy soils needs to be tested. If MMI can identify metal anomalies in the glacial soils in areas of known mineralization the use of MMI will be expanded over much of the project area.
Next Steps
The MMI soil results will be reviewed when the samples results are received and if proven to be a valuable tool in identifying mineralization will be used to fine tune detailed ground surveys in 2024. The Company has also conducted geophysical survey work which it is currently reviewing.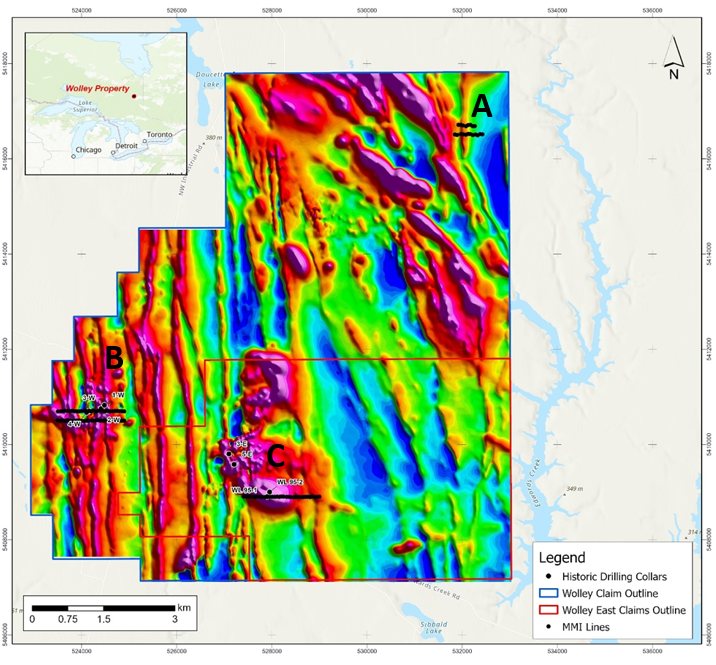 Figure 1: Figure of the three MMI areas and historical drill collars located over the Total Magnetic Intensity (TMI) map of Abitibi East Claim Group
Abitibi East Project Highlights
Poly-metallic critical mineral property with additional base and precious metal potential 

(Cu-Zn-Ag, Ni-Pt-Pd and Au) 

Centrally located to the Timmins Gold Camp (Au), Alexo-DunDonald (Ni-Cu-Co) operating Nickel Mine (20kms), and the Kidd Creek (Cu-Zn-Pb-Ag) operating Copper mine (50kms) 

Abitibi East Project covers 8050 Ha on the western end of the world-class Abitibi greenstone belt 

No modern exploration - since 1995 

Historical sampling and assaying are incomplete or absent - modern multi-element techniques are required for Project geochemistry 
About Abitibi East
The Abitibi East Property is underlain by Archean volcanic and sedimentary rocks which are intruded by gabbroic intrusives and (Matachewan) dolerite dykes. The Project is prospectable for several different deposit model types that include:  The Kambalda-type Ni-Cu-(PGE) ore deposits; bimodal mafic-ultramafic volcanic massive sulfide (VMS) deposit; and orogenic gold deposits hosted by shear zones.
The Project is located north of Iroquois Falls in an area that contains glaciofluvial and glaciolacustrine deposits making traditional soil sampling difficult because the soils have been transported by glaciers to their current locations.
MMI Technology
Mobile Metal Ion (MMI) geochemistry is a proven advanced geochemical exploration technique known to find mineral deposits.
It is especially well suited for deeply buried mineral deposits. MMI measures metal ions that travel upward from mineralization to unconsolidated surface materials such soil, till, sand and so on. These mobile metal ions are released from mineralized material and travel upward toward the surface. Using careful soil sampling strategies, sophisticated chemical ligands and ultra-sensitive instrumentation, enabling the measurement of these ions. After interpretation, MMI data can indicate anomalous areas.
There are many benefits to using MMI technology for soil geochemistry:
Few false anomalies 

Focused, sharp anomalies 

Excellent repeatability 

Definition of metal zones and associations 

Detection of deeply buried mineralization 

Low background values (low noise) 

Low limits of detection 
References
digigeodata.com 

miningdataonline.com 

class1nickel.com 
Qualified Person
The technical information contained in this news release has been reviewed and approved by Freeman Smith, P.Geo., a Qualified Person for the purposes of National Instrument 43-101.
Contact Us
For further information, interested parties are encouraged to visit the Company's website at www.canadaonemining.com, or contact the Company by email at This email address is being protected from spambots. You need JavaScript enabled to view it., or by phone at 1.877.844.4661.
On behalf of the Board of Directors of
CANADA ONE MINING CORP.
Peter Berdusco
President and Chief Executive Officer
1 877 844 4661
Forward-Looking Statements
This press release includes certain "forward-looking information" and "forward-looking statements" (collectively "forward-looking statements") within the meaning of applicable Canadian securities legislation. All statements, other than statements of historical fact, included herein, without limitation, statements relating to the future operating or financial performance of the Company, are forward looking statements. Forward-looking statements are frequently, but not always, identified by words such as "expects", "anticipates", "believes", "intends", "estimates", "potential", "possible", and similar expressions, or statements that events, conditions, or results "will", "may", "could", or "should" occur or be achieved. Forward-looking statements in this press release relate to, among other things: statements relating to the successful closing of the Offering and anticipated timing thereof and the intended use of proceeds. Actual future results may differ materially. There can be no assurance that such statements will prove to be accurate, and actual results and future events could differ materially from those anticipated in such statements. Forward looking statements reflect the beliefs, opinions and projections on the date the statements are made and are based upon a number of assumptions and estimates that, while considered reasonable by the respective parties, are inherently subject to significant business, technical, economic, and competitive uncertainties and contingencies. Many factors, both known and unknown, could cause actual results, performance or achievements to be materially different from the results, performance or achievements that are or may be expressed or implied by such forward-looking statements and the parties have made assumptions and estimates based on or related to many of these factors. Such factors include, without limitation: the timing, completion and delivery of the referenced assessments and analysis. Readers should not place undue reliance on the forward-looking statements and information contained in this news release concerning these times. Except as required by law, the Company does not assume any obligation to update the forward-looking statements of beliefs, opinions, projections, or other factors, should they change, except as required by law.
TSX Venture Exchange Disclaimer
Neither the TSX Venture Exchange nor its Regulation Services Provider (as that term is defined in the policies of the TSX Venture Exchange) accepts responsibility for the adequacy or accuracy of this release.
Copyright (c) 2023 TheNewswire - All rights reserved.